FITNESS
In the fitness area you have a person who, from 9:00 a.m. to 11:00 p.m., can prepare a work pattern for you.
It is the ideal place to practice exercise, marking the intensity and type of work you want to do either individually or with a friend. The room has cardio and toning equipment to work all muscle groups.
Machine of the month: Elliptical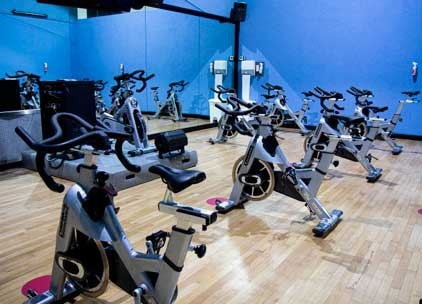 The fundamental characteristic of the elliptical is to bring together all the advantages of traditional elements for fitness such as the treadmill and exercise bikes, allowing two types of fluid movement:
· Pedaling-type circular movement.
· Cross-country ski-type translation movement.
Two movements are carried out at the same time using both the upper muscles (arms, shoulders, abdominals) and the lower ones (main muscles of the legs).
Muscle and joint participation is maximum and is performed in a smooth and pleasant sequence: 10 minutes of elliptical cross trainer is equivalent to half an hour of treadmill. In fact, the intensity of the exercise performed with the elliptical is higher than that of any other traditional apparatus.
Another fundamental characteristic of the elliptical is to avoid potentially damaging movements for the joints and the back.
The benefits that are obtained through exercise with the elliptical are many, but it highlights the burning of more calories in less time, compared to similar exercises on treadmills and on stationary bicycles.
· With forward pedaling, the quadriceps are trained to the maximum and the glutes are toned and hardened.
· Pedaling backward develops effective work for the muscles in the back of the thigh.
· Train all the muscles of the lower extremities at the same time.
· Also useful for rehabilitation purposes to treat joint pain and fatigue associated with arthritis.
· You can perform optimal cardiovascular workouts.
The elliptical trainer is ideal for people who suffer from all kinds of pathologies at the joint level and for recovering from injuries, cartilage wear, tear and recovery of menisci and ligaments, herniated discs and all kinds of lumbar.
Recommended for people starting sports, elderly, sedentary or with heart disease.